Comunità di fede preoccupate per le armi nucleari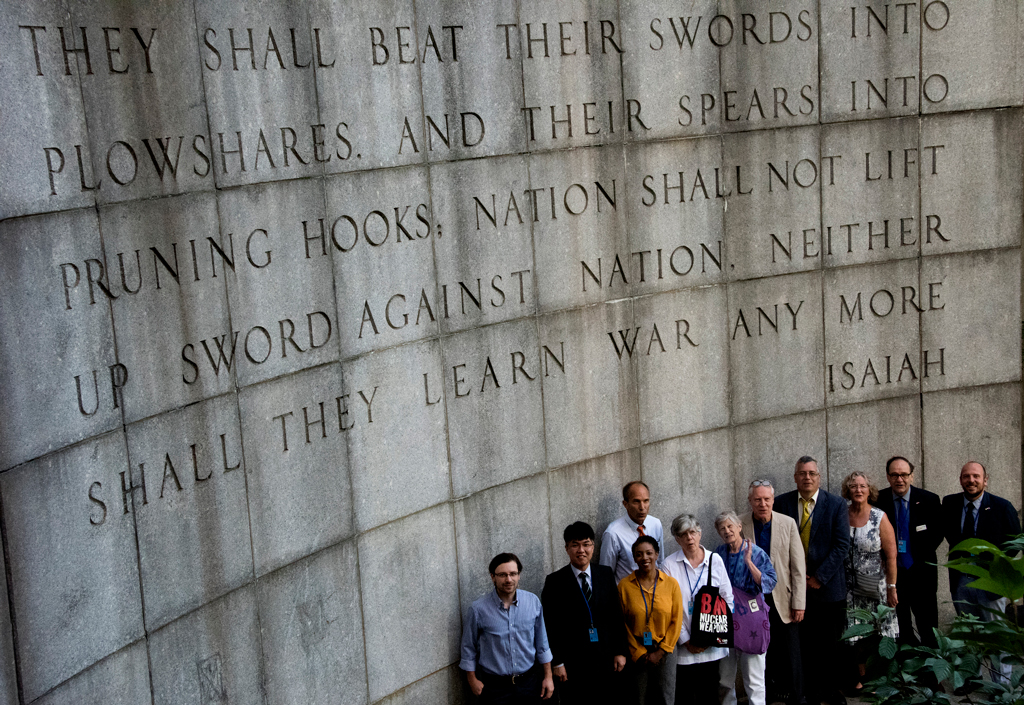 Dichiarazione pubblica sull'adozione del Trattato per l'abolizione delle armi nucleari
Comunità di fede preoccupate per le armi nucleari
Il 7 luglio 2017, più di 120 nazioni, riunite presso la sede centrale dell'ONU a New York, hanno adottato il Trattato per l'abolizione delle armi nucleari. Avendo ripetutamente espresso le nostre preoccupazioni sulle conseguenze umanitarie e ambientali di un qualsiasi uso di armi nucleari, accogliamo calorosamente l'adozione di questo Trattato quale passo fondamentale verso l'obiettivo di un mondo libero dalle armi nucleari.
Le nostre rispettive tradizioni religiose difendono il diritto delle persone e di tutti gli esseri viventi di vivere in sicurezza e con dignità. Crediamo nei dettami della coscienza e della giustizia; desideriamo onorare il nostro impegno di proteggere i vulnerabili e di fare da guida per la salvaguardia del pianeta per le generazioni a venire. Le armi nucleari sono del tutto incompatibili con questi valori e questo impegno, e manifestano un assoluto disprezzo dei principi dell'umanità.
Riconosciamo ed elogiamo il coraggio dimostrato dagli stati presenti alle conferenze, gli sforzi inestimabili dell'ONU e delle altre organizzazioni internazionali, nonché della società civile, che hanno infine portato alla realizzazione di questo trattato. Nutriamo profondo rispetto per gli hibakusha (sopravvissuti alle armi atomiche), le vittime dei test nucleari e tutti coloro che soffrono gli effetti delle radiazioni derivanti dalla produzione di armi nucleari e il degrado ambientale delle loro terre. Le loro esperienze e il loro sostegno hanno dimostrato che lo scopo fondamentale di questo trattato deve essere quello di impedire che qualsiasi altro individuo, famiglia o società possa patire le inaccettabili sofferenze e il dolore che essi hanno sopportato.
Ora è essenziale che i principi e le norme di questo trattato siano diffusi ampiamente tra i popoli del mondo, al fine di raggiungerne l'adozione e la concretizzazione a livello universale. In qualità di persone di fede, ci assumiamo come nostra particolare responsabilità l'impegno di aumentare la consapevolezza dei rischi e delle conseguenze delle armi nucleari per le generazioni presenti e future e di risvegliare la coscienza pubblica affinché si costituisca un elettorato popolare mondiale a ruolo supporto del trattato, al fine di realizzare e mantenere un mondo libero dalle armi nucleari.
***
N.
Nome della persona / organizzazione

(in ordine alfabetico)

Incarico
Affiliazione
1
Acharya Marty Janowitz
Shambhala
2
Dott.ssa Akemi Bailey Haynie
Direttrice dei Women's Programs
Soka Gakkai International – USA
3
American Friends Service Committee
4
Rev. angel Kyodo williams
newDharma Community & Center for Transformative Change
5
Anne Seisen Saunders
Sweetwater Zen Center, National City, Calfornia (USA)
6
Anthony Donovan
7
Suor Ardeth Platte
Jonah House
8
Ven. Bhikkhu Bodhi
Buddhist Global Relief
9
Suor Carol Gilbert
Jonah House
10
Christian Campaign for Nuclear Disarmament
11
Columban Center for Advocacy and Outreach
12
Community of Living Traditions at Stony Point Center
13
Conference of Major Superiors of Men
14
Congregation of Our Lady of Charity of the Good Shepherd, US Provinces
15
Dharma Sangha – Crestone Mountain Zen Center
16
Doug Hostetter
Direttore
United Nations Office, Mennonite Central Committee
17
Rev. Eido Frances Carney
Soto Zen Buddhism, Temple Ground Press
18
Friends Committee on National Legislation
19
Gina Sharpe
Co-Fondatore
New York Insight Meditation Center
20
Hirotsugu Terasaki
Direttore generale dell'ufficio per la Pace e gli Affari internazionali
Soka Gakkai International
21
Rev. Hozan Alan Senauke
Direttore
Clear View Project
22
Insight Meditation Community of Washington
23
Islamic Society of North America
24
Dott. Jack Kornfield
Spirit Rock Buddhist Center
25
Janet Fenton
Northern Friends Peace Board (Quakers)
26
Jim Winkler
Segretario generale/Presidente
National Council of Churches, USA
27
Jisho Warner
Stone Creek Zen Center
28
Rev Joan Hogetsu Hoeberichts
Abate
Heart Circle Sangha
29
Rev. Josho Pat Phelan
Badessa
Chapel Hill Zen Center
30
Juanne Robinson
Peace Action
31
Rev. Dott. T. Kenjitsu Nakagaki
Presidente
Buddhist Council of New York
32
Bishop Kevin Dowling C.Ss.R.
Co-Presidente
Pax Christi International
33
Rev. Kenshin Catherine Cascade
Capo insegnante
Bird Haven Zendo
34
Kittisaro & Thanissara
Sacred Mountain Sangha – USA & Africa
35
Kotatsu John Bailes
One Heart Zen
36
Kristin Barker
37
Malik Mujahid
Sound Vision
38
Marie Dennis
Co-Presidente
Pax Christi International
39
Maryknoll Office for Global Concerns
40
Matt Regan
Segretario
International Buddhist Committee of Washington DC
41
Mikael Lindgren
Church of Sweden
42
Monica Willard
United Religions Initiative
43
Multifaith Voices for Peace and Justice
44
Muslim Peace Fellowship
45
Mustafa Cerić
Gran Muftì Emerito di Bosnia, Presidente
World Bosniak Congress
46
National Advocacy Center of the Sisters of the Good Shepherd
47
Bishop Noriaki Ito
Higashi Honganji North America District
48
Olympia Zen Center's Soto Zen Buddhist Sangha
49
Suor Patricia Chappell
Direttore esecutivo
Pax Cristi USA
50
Roshi Pat Enkyo O'Hara
Village Zendo, New York City (USA)
51
Pax Christi International
52
Sensei Koshin Paley Ellison
Insegnante guida
New York Zen Center for Contemplative Care
53
Rev. Shodo Spring
Mountains and Waters Alliance
54
Sisters of Mercy of the Americas – Institute Justice Team
55
Susi Snyder
Manager del Nuclear Disarmament Programme
Pax
56
The Sussex Sangha
57
Rabbi Peter S. Knobel
Consigliere speciale per la Sicurezza Globale
Religious Action Center of Reform Judaism
58
Rev. Taigen Dan Leighton PhD
Ancient Dragon Zen Gate, Soto Zen Buddhist temple, Chicago (USA)
59
Timmon Wallis
Quakers in Britain
60
Unitarian Universalist Association
61
United Church of Christ, Justice and Witness Ministries
62
United Methodist Church, General Board of Church and Society
63
Rev. Val Szymanski
64
Rev. Wendy Egyoku Nakao
Zen Center of Los Angeles
65
World Council of Churches
66
Rev. Zuiko Redding
Cedar Rapids Zen Center – Jikyouji, Cedar Rapids, Iowa (USA)
*Gli incarichi e le affiliazioni sono fornite soltanto a scopo identificativo; i nomi di persona o delle organizzazioni appaiono in ordine alfabetico.
fonte: http://www.sgi.org/content/files/resources/ngo-resources/peace-disarmament/ptnw-joint-statement-july-2017.pdf